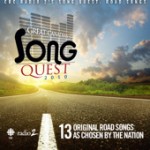 I'm thrilled to have some really lovely songs from the CBC Song Quest project. Manitoba's Kerri Latimer is featured with a song I'm an instant fan of called 'Mountain Road'.
What is Song Quest? Well, I'd describe it the simple notion that there are uniquely Canadian stories to tell, and will to help artists tell them. From their website: "13 musicians – one from each province and territory – have been selected to add a new chapter to the Canadian songbook through the creation of 13 new original road songs."
Visit cbc.ca/radio2/songquest/ for more information.